Overview and background
The 240 Opquast rules are defined and agreed upon by an extensive community of web professionals and academics. These web quality guidance rules started as a list of best practices 20 years ago. They have since been revised every five years and have been tried and tested via millions of web interactions by Opquast community's customers, including the leading CMS communities which have developed plugins for WordPress, Drupal and Prestashop. Version 4 was established in 2020.
Each rule has individual technical sheets and the rules can be searched by project phase or various topics: e-commerce, data-privacy, internationalization, security, code, etc, or by themes: accessibility, SEO, mobile, privacy, and ecodesign. The complete checklist is available on a creative commons license BY-SA.
These foundational UX-QA rules (User Experience Quality Assurance) are also at the core of the Opquast certification, 'Mastering Web Quality Assurance', detailed below, which now has over 11,000 certified.
Go on, download the list. We know you want to 😉
Download pdf version, (4.5 Mb)
Download xls version (xls, 265 kb)

Broad application and benefits
The rules should be applied to your projects from the design phase through to post-implementation , and they should be understood by all professionals with web and customer experience (CX) responsibilities: from strategy to operations, marketers to project managers, and editorial to technical staff. The benefits of using this ruleset are numerous, including improving customer satisfaction, web performance, and e-commerce, and expanding your client base, while also decreasing your errors and costs.
The objective of these rules and the Opquast community mission is 'making the web better' for your customers and for everyone! Opquast rules cover the key major areas of risk that can negatively affect website users such as privacy, ecodesign, accessibility and security.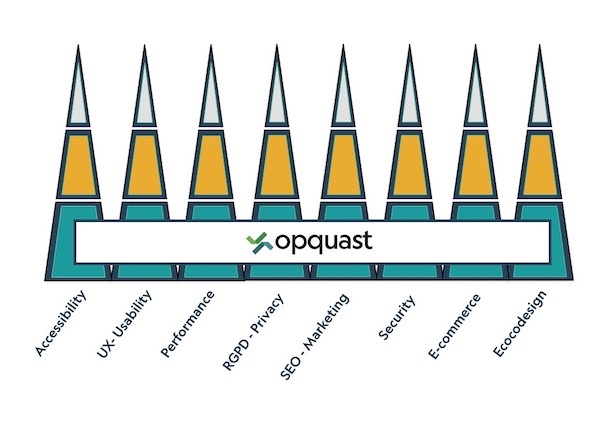 Since 2018, the GDPR applies to every company that deals with EU citizens, and the concern about privacy continues to grow all around the world. Opquast provides a set of rules to prevent the most obvious risks and infringements to users' personal data.
Opquast rules cover all key accessibility errors which 'WebAIMs' yearly analysis identified as affecting 98.1% of the top 1,000,000 home pages (as mapped to W3C WCAG conformance failures).
Opquast covers key ecodesign rules to make the web more energy efficient and in turn provide a better user experience with a lesser carbon footprint.
19 security rules which provide essential web quality advice to ensure the user has confidence that technical security precautions are in place to prevent prevalent fundamental risks.
The modern web user is becoming increasingly sensitive to such requirements being met. Only by embracing web QA strategies, which are fully inclusive and user-focused, will we begin to create a web of high enough quality that will be acceptable and accessible to enough people.
If you identify with our mission and want to support it, please forward this page to your colleagues, your HR Representative or your Training Manager. It is the certification, detailed below, which funds Opquasts activities and the community support. The training shows students and web professionals how the web quality rules can enrich the user experience and support the building of inclusive web products that respect the highest integrity of our customers.
Opquast's 'Mastering Web Quality Assurance'
Opquast training has already allowed over 11,000 web professionals to have their skills certified. Breaking from the traditional 'disciplinary silo' approach, it presents multidisciplinary foundational UX and web QA skills that can be applied to your web projects from the design phase through to post-implementation.

It was really a great experience. We came out sharp, ready to polish new quality sites, new applications and digital campaigns. We all learned a lot. We spent a month discussing the quality a lot: suddenly, in addition to the emulation between the different members of the team, I really feel that we have shared something, and that we have made progress all together.
Course overview
A 14-hour online training course, available 24 hours a day, 7 days a week
For all professionals invested in web projects: strategy to operations, marketeers to project managers, editorial to technical staff
For all levels, from beginner to advanced
A multi-disciplinary approach: ecodesign, inclusion, UX, SEO, e-commerce etc
Community defined web quality and UX rules based toolset covering design to post implementation
Design principles focused on user diversity
The training objectives
Cross disciplinary skills for more effective team work
Learn a common vocabulary, framework, and mindset for better web Q.A. and U.X. reflexes
Understand fundamental user requirements for the web
Avoid major accessibility issues, project risks and common user frustrations
Business Benefits
Minimise business and technical risks, such as loss of customer confidence, poor SEO, poor performance, data privacy breaches, etc.
Decrease costs by reducing errors upstream and also decrease the quality control effort.
Create solid foundations for digital transformation: Introduce trained 'quality custodians' and empower your human assets to proactively manage your digital assets.
Extend your customer base with a fully inclusive 'user focused' quality assurance strategy
Create a team culture focused on increasing web quality and a creating a better user experience
Increase brand credibility with increased quality: Opquast's approach ensures customers receive positive brand signals throughout their web interactions.
The training gives us a cross-perspective on the different professions of the web. We touch everything. Despite a non-technical profile, I gained a better understanding of web aspects that are not part of my core business skills, for example, developer tasks, such as minifying scripts, which can speed up page loading. All this contributes to a more efficient web and, therefore, a more responsible web. It's crucial for a project manager to have all these parameters in mind.
Interested in certification?
Register online or contact us
Professionals, freelancers
Training centres, companies, agencies, IT service providers
Students: send this page to your course director to become an examination centre
Opquast in numbers