Opquast training has already allowed over 10,000 web professionals to have their skills certified. The training allows web and digital-focused individuals, of all levels, to work more effectively in multidisciplinary teams, with a common vocabulary, framework and mindset, to produce higher quality web products with a user experience focus.
'Mastering Web Quality Assurance' course overview
A 14-hour online training course, available 24 hours a day, 7 days a week
For all professionals invested in web projects: strategy to operations, marketeers to project managers, editorial to technical staff
For all levels, from beginners to advanced
A multi-disciplinary approach: eco-design, inclusion, UX, SEO, e-commerce etc
Community defined best practices toolset covering design to post implementation
Design principles focused on user diversity
Interested in certification?
Register online or contact us
Professionals, freelancers
Training centres, companies, agencies, IT service providers
Students: send this page to your course director to become an examination centre.
What are the advantages?
Create a strong and consistent web team culture
Take better account of the diversity of users
Reduce risks and improve the user experience
Reduce costs and improve the quality and performance of your websites
Develop a cross-disciplinary culture and help your teams progress
Video: Opquast
Hello, I'm Paul from Opquast. Whether you have been registered by a school, a company or a training centre, or whether you have registered as an individual, you are going to follow the course "Mastering Web Quality Assurance", more commonly known as Opquast certification. Whether you are in a job learning new skills or, retraining for a future career or training, whether you have a technical profile such as a back or front end developer or, a less technical profile, you will have to work within teams and, with suppliers and customers. All digital and web facing profiles need to communicate, exchange and make themselves understood, this also includes: including marketing,communication, project management, web designers, , and content production professionals. .Furthermore you must also be able to take into account what is happening with the user with their requirements and their contexts of use. The aim of the training you are going to follow is to provide you with a foundational mutlidisciplinary framework which also includes a common culture and vocabulary, enabling you to more effectively participate in web projects and to be able to identify and mitigate risks and quality issues. This training will require between 8 and 14 hours of online and autonomous work. The follow-up of this training will give you access to a certifying exam. You will obtain a score between 0 and 1000. The score to aim for depends on your profession and your personal objectives. The exam modalities are explained to you in another video. Once you have obtained the Opquast "Mastering Web Quality Assurance" certification, you will be able to publish your certificate and use it to enhance your profile.
Opquast: the benchmark reference system for website quality
Opquast has been working on web quality since 2000. The best practices are defined by the Opquast community and have been utilised to support tens of thousands of web projects in that time.

240 best practices
realistic and verifiable, validated by the community

Multidisciplinary approach
SEO, accessibility, performance, security, UX, eco-design, e-commerce, Privacy and Mobile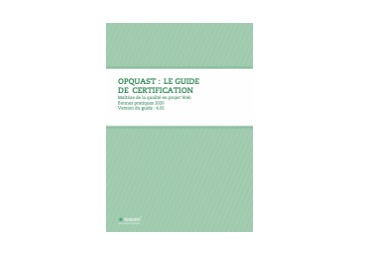 Online platform
autonomous e-learning system with quizzes, video tutorials, online glossary, full mock exams and a 200-page guide
The Opquast checklist is available under open license CC-BY-SA
Best practices are the subject of consensus in consultation with a wide community of experts, agencies, companies, and higher education
Best practices are the subject of the book, "Qualité Web" published by Eyrolles
Opquast brings together several thousand certified and a large number of schools, universities, training centers, and public actors
Want to get started?
Professionals, freelancers: register directly for certification
Training centers, companies, agencies, ESN: Fill out the form below and let's make an appointment to discuss your needs
Students: send this page to your training manager so that your establishment can become an examination centre
Useful information
Duration, prices, program, prerequisites, teaching methods, assistance, accessibility, and individualization: find all the information in the training program (PDF-173kb) .