Why implement Opquasts' web Q.A. approach?
By implementing Opquasts' customer-centric web Q.A rules with their social and customer-focused ethos, you can increase the confidence and trust of your users while strengthening your brand image and yielding a multifold return on investment.
The Opquast web quality assurance approach addresses the key risks and concerns that affect website and digital application users, focusing on universal design and the key web and I.T. compliance challenges.
Opquasts' web QA approach has been continuously developed over 20 years with our active community of 14,500+ professionals. Opquast's core mission is "Making the web better" through our training, the sharing of our community consensus open-resources, and community-driven tools and plugins.
A closer look at 4 critical global digital compliance risks and concerns
Implementing QA rules will make a significant contribution to sustainability and compliance strategies while also having a positive financial impact as outlined within the 'Business Benefits' and 'Return on Investment' sections below.
What are the business benefits?
Increase trust – Opquast's QA rules are user-focused but they also have a societal and environmental impact as mentioned above. Eco-design, inclusion, and accessibility are central themes. The Fulfillment Lab listed a study by IBM which states that "79% of Millennials cite sustainability as important to them when making a purchase compared to 75% of Gen Z".
Increase customer confidence by reducing security, privacy, and other compliance risks (see above).
Increase engagement and reduce bounce rate. By improving your inclusivity, SEO, performance and the overall user experience you will see higher engagement metrics from a wider audience with better: abandonment rates, bounce rates, time on page, page depth etc.
Improve cross-disciplinary foundations for digital transformation – Create solid foundations by increasing cross-disciplinary skills and collaboration. Opquast's rules bring together multidisciplinary teams with the common goal of customer quality. "63% of people who are in a digital transformation process say that culture is the number one barrier….56% stated cross-department collaboration as their 3rd largest challenge." Altimeter & Capgemini study. The Opquast training is a chance for multidisciplinary teams to deepen their collaboration and digital culture further.
Reduce costs – QA is about avoiding critical errors upstream. Robert Pressman's book, 1992 Software Engineering: A Practitioner's Approach proposes a formula that states that errors that could be solved in design for $1 becomes $6 costs at coding, $15 costs at testing and $60–$100 costs after product release. While these figures are estimated and will vary greatly the avoidance of errors upstream with QA does result in significant cost savings as well as fewer live errors.
What is the ROI (return on investment)?
The QA rules, by nature of their cross-disciplinarity, can introduce a chain of positive reactions, which can be difficult to trace. Sometimes it is clear what causes improved metrics or increased profits; other times it is less so, due to that chain of synergies. Consider the example of how implementing a more reserved and accessible design relates to effective eco-design and, potentially, better usability, and ultimately how that can increase page performance, and thus your SEO. We give a few examples below where it is easier to measure the ROI directly but QA programmes also need to be assessed in terms of the business benefits gained and the risks of non-investment such as those compliance issues noted above or the loss of customer trust.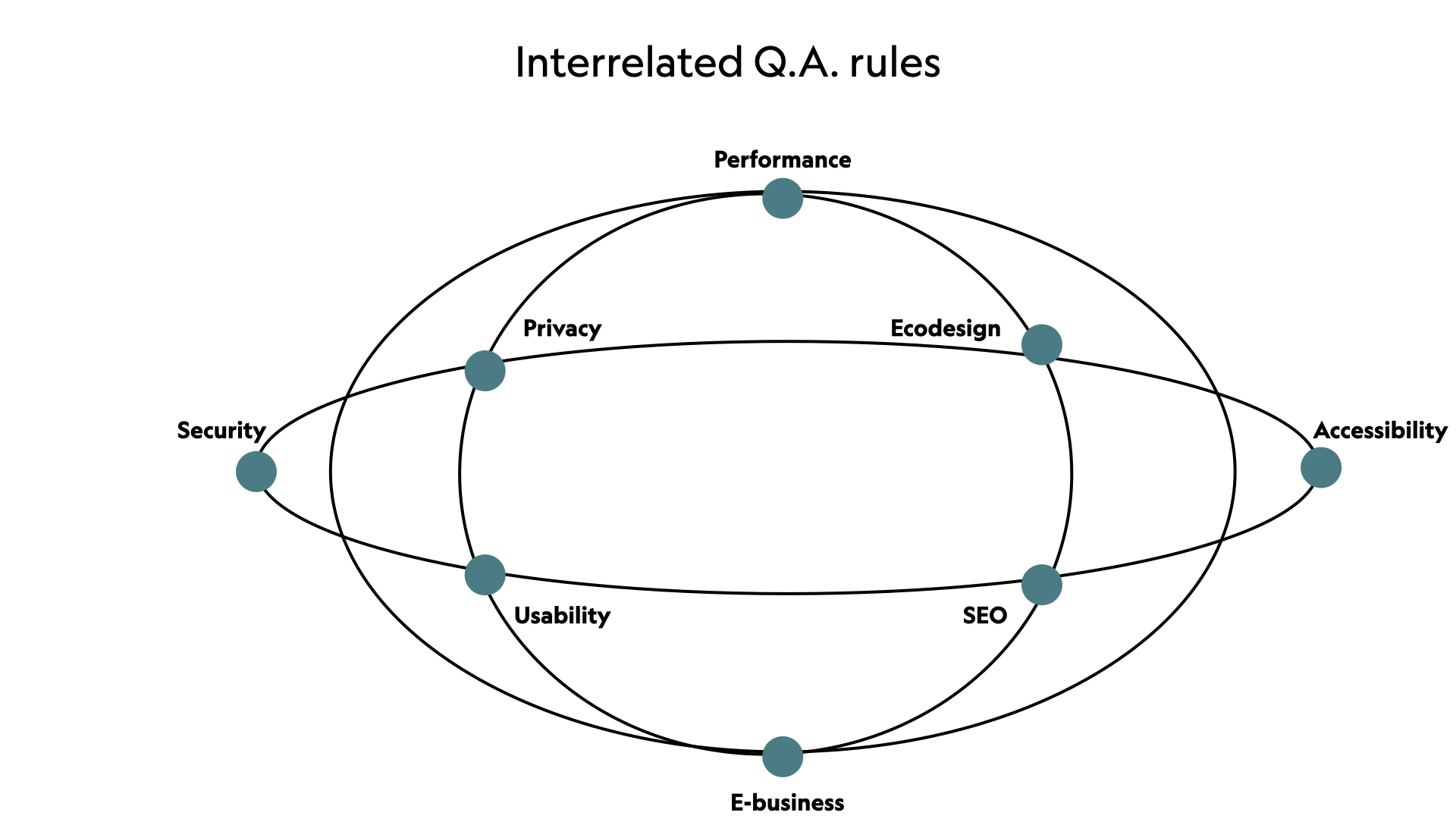 Why should I trust the Opquast web QA rules?
The 240 Opquast web QA rules are defined and agreed upon by an extensive community of web professionals and academics. These web QA rules started as a list of best practices 20 years ago and have since been revised every five years. The rules have been tried and tested via millions of web interactions by Opquast community's customers, including the leading CMS (Content Management System) communities which have developed plugins for WordPress, Drupal and Prestashop.
The Opquast team includes Elie Sloïm and Laurent Denis. Both have published books on web quality as well as on leading French national standards for accessibility such as the RGAA (Référentiel Général d'Amélioration de l'Accessibilité). In addition, they have published many open lists for usability, open data, ecodesign, etc.
How do I implement the QA rules?
The rules should be applied to your projects from the design phase through to post-implementation , and they should be understood by all professionals with web and customer experience (CX) responsibilities, from strategy to operations, marketers to project managers, and editorial to technical staff. The Opquast QA rules take the form of the online repository, the book web quality and the downloadable checklist which can be applied at each project phase. To really engrain the quality rules into your organisational processes then the training really embeds the QA and customer-centric ethos into an organisations culture.
The majority of the quality rules cannot be automated so having a QA dedicated resource is becoming increasingly common amongst organisations, this has the added advantage of releasing UX professionals and web designers to focus on their core functions. The certification (link below) focuses on bringing teams together towards the common goals centred around user quality; it aims at creating quality reflexes and empathy of the user contexts, something relevant for all web project resources. As a human focused system, Opquast QA rules complement all broader quality management systems and quality control procedures.
For more background and considerations please see Elie Sloïm's article in smashing magazine.
Download the checklist, check out our training
Bootstrap your web and digital projects with fundamental quality rules for eight core interrelated disciplines: accessibility, UX, performance, privacy, SEO, security, e-business, and eco-design.
Go on, download the list. We know you want to 😉
Download pdf version, (4.5 Mb)
Download xls version (xls, 265 kb)

Each rule has individual technical sheets and the rules can be searched by project phase or various topics: e-commerce, data-privacy, internationalization, security, code, etc, or by themes: accessibility, SEO, mobile, privacy, and ecodesign. The complete checklist is available on a creative commons license BY-SA.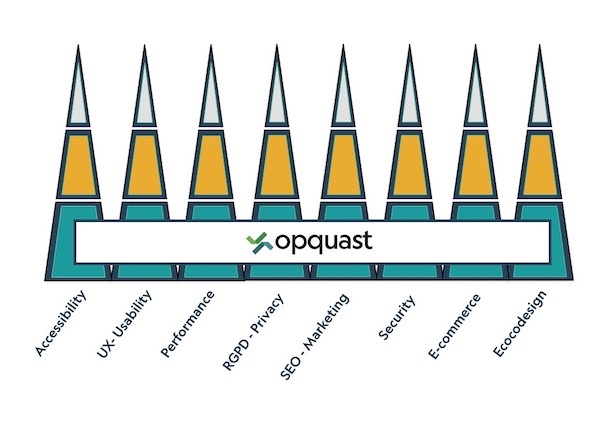 These foundational web quality rules are also at the core of the Opquast certification, 'Mastering Web Quality Assurance', (link at the bottom).
If you identify with our mission and want to support it, please forward this page to your colleagues, your HR Representative or your training manager. It is the certification, detailed below, which funds Opquasts' activities and the community support.
Opquast's 'Integrate web QA rules and vocabulary into professional practice.'
Opquast training has already allowed over 18,000 web professionals to have their skills certified.