The offer (by direct invitation only)
Your organisation is one of 50 businesses, charities, digital schools or universities, carefully selected within the U.K, that Opquast would really like to work with. We are happy to be able to extend this offer to one of your employees, or students, for the complete training and certification package for Opquasts' 'Mastering Web Quality Assurance' certification. The retail price is £250 and students need 12-16 hours to complete the course with some study time if aiming for a higher grade (Final exam is 125 multiple choice questions in 1.5 hours).
It was really a great experience. We came out sharp, ready to polish new quality sites, new applications and digital campaigns. We all learned a lot. We spent a month discussing the quality a lot: suddenly, in addition to the emulation between the different members of the team, I really feel that we have shared something, and that we have made progress all together.
Why are we offering you this opportunity?
We are looking to work with businesses and universities, active in web and digital, as a business or training partner to provide our multidisciplinary foundational training. This offer of a training voucher gives you a commitment-free opportunity to see how our training will benefit you and your staff or students.
What is the training about?
The certification teaches how to mitigate major web and digital risks i.e. accessibility, privacy, security, e-commerce, ecodesign, etc. and how to steer web and digital projects towards a better customer experience.
Learn foundational web quality rules, and customer-centric reflexes, based upon a quality assurance system that is built upon the experience of thousands of past web projects.
The training provides a multidisciplinary foundation (see illustration below) and vocabulary to help web teams, trades, and clients understand each other and work more efficiently together.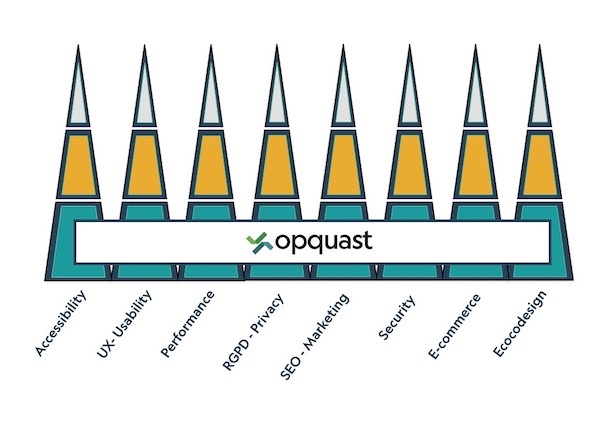 What are the target profiles for the training?
This multidisciplinary training is intended for all professionals and students vested in digital and web activities including marketers, project managers, developers, content specialists, IT professionals, business and digital strategists, customer success managers, etc.
The training gives us a cross-perspective on the different professions of the web. We touch everything. Despite a non-technical profile, I gained a better understanding of web aspects that are not part of my core business skills, for example, developer tasks, such as minifying scripts, which can speed up page loading. All this contributes to a more efficient web and, therefore, a more responsible web. It's crucial for a project manager to have all these parameters in mind.
Business Benefits
Minimise business and technical risks, such as loss of customer confidence, poor SEO and performance, data privacy breaches, etc.
Decrease costs by reducing errors upstream and also decrease the quality control effort.
Create solid foundations for digital transformation: introduce trained 'quality custodians' and empower your human assets to proactively manage your digital assets.
Extend your customer base with a fully inclusive 'user-focused' quality assurance strategy.
Increase credibility with increased quality: Opquast's approach ensures customers receive positive brand signals throughout their web interactions.
Break the silos and create a strong and cross-disciplinary web team culture
Who is Opquast?
Opquast was started in France in 2000 and was just recently incorporated as an 'enterprise á mission' or 'Purpose driven company'. The 'Mastering Web Quality Assurance' training product, established in 2014, is based upon the continually evolving, open source, web quality rules. Opquast is not just a training company but also an active community of 11,000+ certified members, see Opquast's missions for more details.
Conditions and period of validity
In return for the training voucher and digital certification (see below image) we ask that you complete our feedback questionnaire (5 minutes maximum) after the online exam.
The training will be valid for three months from the time you commence the course. The offer is not transferable to another organisation (the deadline for commencement is 30th June 2021).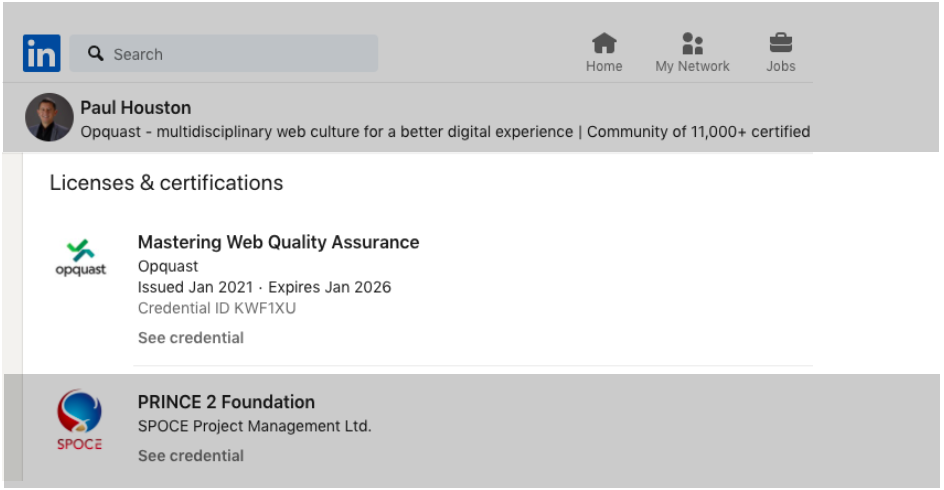 Contact us
If you would like to take advantage of the offer and join the Opquast community please fill in the form or connect with Paul Houston, Opquast Head of Business Development on LinkedIn or Sarah Marcellin, Opquast International Account Manager, on LinkedIn.