A lot of advice on onboarding calls for complex solutions to be implemented over the long term to increase the success and length of an employees tenure. As part of those successful strategies training invariably plays a part. Opquast has been working with a number of customers to find flexible solutions to aid the onboarding which is complementary to organisations with digital and purpose driven cultures. Below we outline the Opquast solution and how it fits with commonly accepted onboarding frameworks and meets current challenges.
The huge challenges and costs of onboarding
Onboarding is one of the common neglected areas of management but it represents one of the most significant costs to an organisation in terms of straight financial costs and the opportunity costs associated with lost time to market. A 2019 poll1 by Gallup found that only 12% of employees believed their organizations did a great job with onboarding and that this resulted in half of all hourly workers leaving new jobs in the first four months, and half of senior outside hires failing within 18 months.
Employees cited that programs are often too short or that they don't convey or achieve buyin of the organization's culture. This sees the increase in employment costs skyrocketing; SHRM estimates that it will cost a company six to nine months of an employee's salary to identify and onboard a replacement. Such costs are vast compared to structuring an effective onboarding solution and the costs which can be saved, let alone considering the value of having well-informed and motivated employees will bring as a result of great onboarding.
Onboarding Frameworks – The 4Cs
SHRM recommends in the first year of employment to carry out very proactive management of recruits including trainings that bring clarity to the role, utilising a blend of 'soft and hard skills' and also trainings which touch on an organisations culture. Studies found this is particularly necessary for individuals that have a lower level of self-efficacy (Self efficacy2 being the ability for employees to become productive and confident members of staff).
Without a robust framework, employee retention will dramatically decrease; a number of simple and adaptable frameworks exist. One example is the HR foundation SHRM's 4 C's model, which is globally accepted as a base onboarding framework. SHRM presents four levels: Compliance, moving through Clarification, to Culture and Connection (show below). For digital facing roles all of these are part of Opquast's training, to varying degrees, but it is the last two, Culture and Connection where Opquast training is very well placed to inspire new recruits.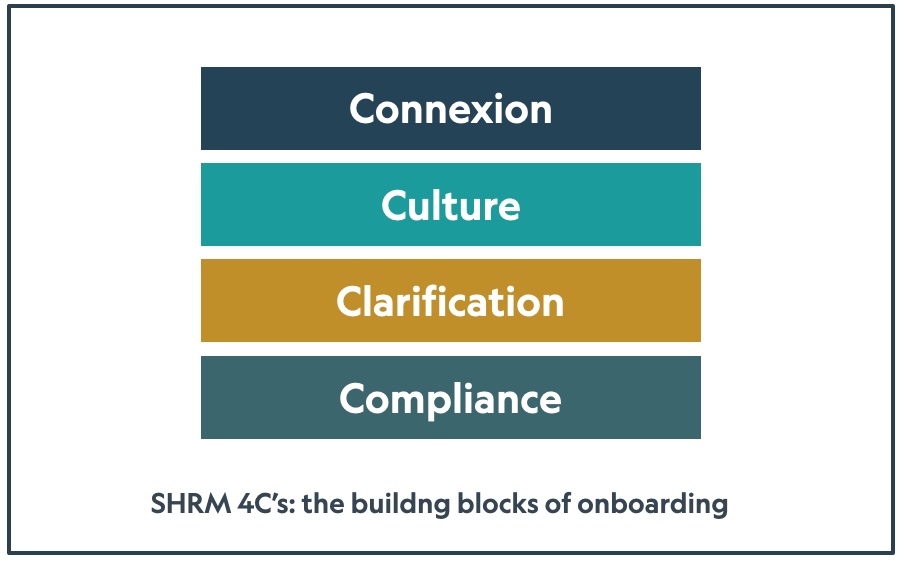 SHRM 4C's: the buildng blocks of onboarding3
Culture and Connection with Opquast
If training programs can also bring elements which inspire collaboration within the workplace then employees will benefit from an increased sense of shared goals which will be compounded if the work includes purpose driven missions. This is particularly important in the early stages of employment when first impressions really affect the decisions of employees to consider the employment as a viable long term career prospect4. It is therefore fundamental that the trainings an organisation chooses for it's existing and new employees echoes and gives tangibility to it's culture and of course bring something new which adds value to the employee experience.
In a research paper on inspiring organisational cultures5 I briefly touched on how Opquast training was an example of blending key approaches which are commonly found in highly effective cultures. The illustration below shows the main organisational goals which Opquast certification embraces.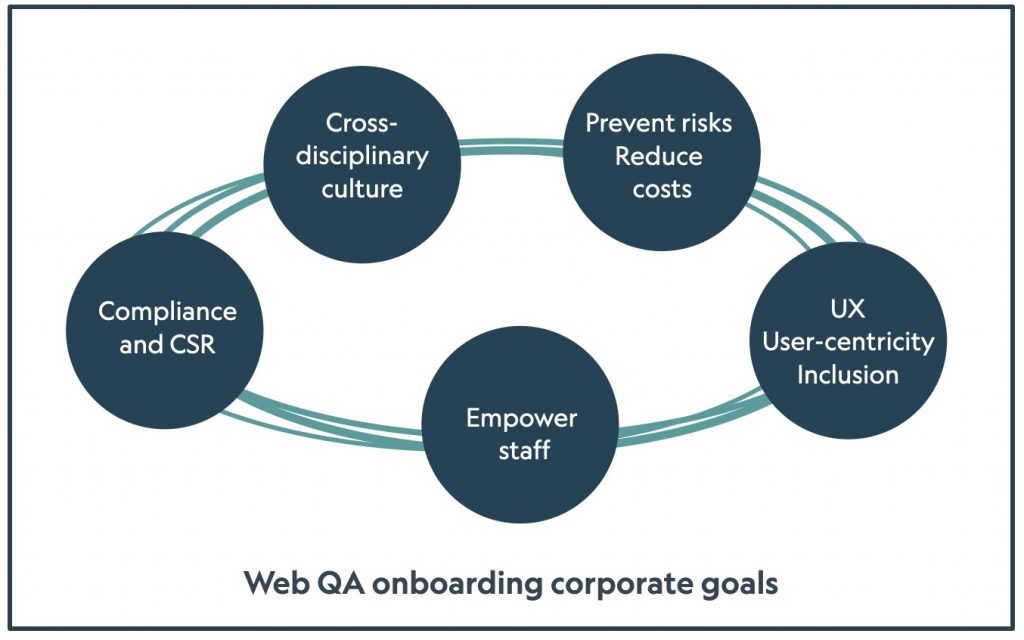 Web QA onboarding organisational goals
Those goals being: Empowering Staff with quality assurance knowledge, Collaboration via cross-disciplinarity, Customer-orientation (this includes employee experience) and finally Purpose via compliance and inclusion. All four of these connected objectives support the Culture and Connection upper levels of the SHRM model.
Empowering staff with knowledge is one of the best ways to create a sense of belonging, confidence and meaning to employees. The training demonstrates how the broad array of digital facing roles can work together using a multidisciplinary knowledge and vocabulary to build understanding and to avoid any pending silo mentality with new employees. A Capgemini study6 found 63% of people who are in a digital transformation process say that culture is the number one barrier to success and 56% stated cross-department collaboration as their 3rd largest challenge.
Opquasts Onboarding Solution
Opquast's full certification is a 14-hour online training that benefits a very wide-array of employees that touch digital and web aspects of an organisation. It is not possible for all employees to carry out a 14 hour course when they arrive in a new company or new role, but there are great advantages to being given an overview to introduce important aspects which can enhance an employees cultural fit and their understanding of key organisational goals.
The Opquast Accelerated Onboarding solution is a 2.5hrs training (including a Learn-as-you-go assessment exam)) which plays to strengthening corporate cultures which focus on customer quality and improving customer and employee digital experiences. It is being used by our customers as part of their onboarding experience or their reboarding of existing employees into more digital-facing roles and teams.
Customers are given complete autonomy on who they enroll on the course as part of a basic package and then vouchers are purchased for the full training which managers can allocate to those roles they deem beneficial to take the full training. The onboarding version helps reinforce the cultural objectives of the organisation and onboard the candidates for working amongst different disciplines of digital projects. The full certification creates a net of 'quality custodians' within the organisation which act as go to contact points with deeper knowledge of improving users digital experiences.
Increasing purpose and meaning
Opquast training combines purpose related topics such as accessibility, ecodesign, privacy and improving customer and employee experiences.
This breadth of knowledge creates touch points and empathy across the web disciplines and the t-shaped skills empower each trainee broad knowledge and vocabulary for improved digital projects work.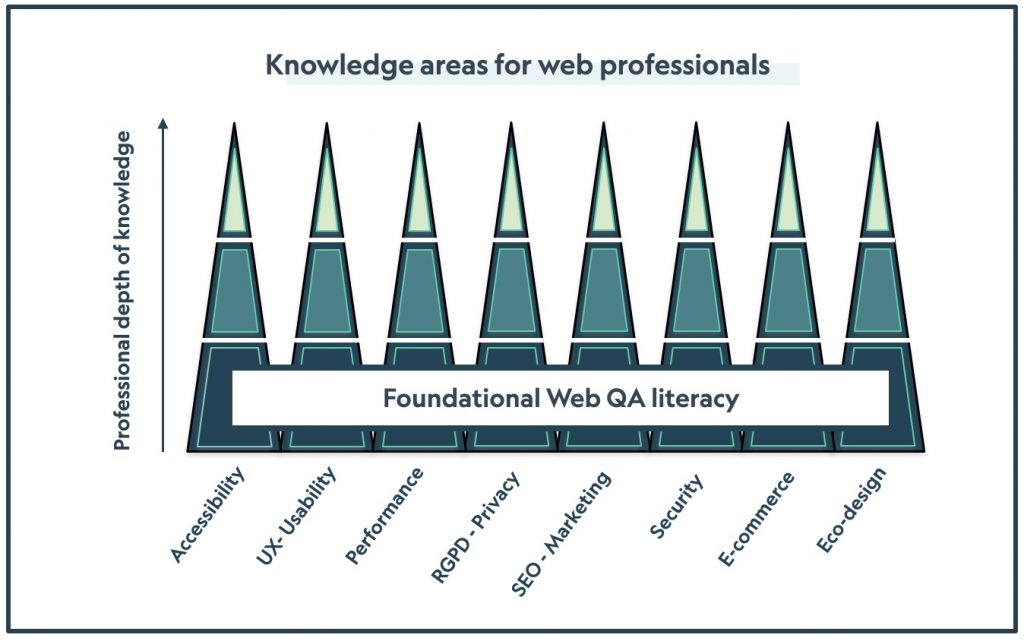 Knowledge areas for web professionals
The broad base subjects are all related and also provide a great foundation which frequently inspires participants to go deeper in subjects they find interesting; strengthening the individual but also the teams at the same time. The suitability of the Opquast training for onboarding will of course depend upon the individuals role, the companies objectives and operational scope but most onboarding programs in organisations with a digital or purpose driven culture will no doubt be a good fit.
References
1. Gallup's Perspective on Creating an Exceptional Onboarding Journey for New Employees 2019
2. Saks, A. M. (1995). Longitudinal field investigation of the moderating and mediating effects of self-efficacy on the relationship between training and newcomer adjustment. Journal of Applied Psychology, 80, 211-225
3.SHRM Onboarding New Employees: Maximizing Success https://www.shrm.org/foundation/ourwork/initiatives/resources-from-past-initiatives/Documents/Onboarding%20New%20Employees.pdf
4.The effectiveness of an organizational level orientation training program in the socialization of new hires. Personnel Psychology Klein, H.J., & Weaver, N.A. (2000).
5. https://houst10.medium.com/four-people-planet-focused-strategies-to-inspire-organisations-beyond-the-digital-transformation-1c383aceaad
6. https://www.i-scoop.eu/charlene-li-an-interview-on-leadership-and-digital-transformation/