Digital and web projects are increasingly complex.

Below are the main skills that need to be integrated for a successful web project.
No one person can master all of these skills, but knowing the fundamentals is achievable and necessary.
SEO
Ranking
Webmarketing
Communication
Ergonomics
Visual design
Webdesign
Navigation
Security

Accessibility
Performance
Compliance
Writing
Translation
Legal
Editorial
E-commerce
Logistics
Assistance

Customer Management
Does this sound familiar?
"Users are complaining; they say the website is hard to use. "
"I asked the team but they don't understand what I'm telling them."
"We lost too much time defining user requirements on this project."
"I don't feel my skills are recognized by the other team members."
"There are some web disciplines that I don't feel really comfortable with."
What can I do to improve this situation?
Become a better web quality custodian and user advocate
Improve your skills to increase efficiency and integration with your team
Achieve a global view with cross-disciplinary skills, vocabulary and culture
Get a recognized and objective evaluation of your web QA skills
Join a community dedicated to making the web better
Take the next step: the Opquast training and certification

'Mastering Web Quality Assurance'
Improve your skills on accessibility, UX, usability, performance, privacy, SEO, marketing, security, e-commerce & ecodesign.
A 14-hour online, on-demand cross-disciplinary training course
Quizzes, videos, activities, articles, mock and final exams
For all web professionals; all levels from beginners to advanced
Project managers, UX / UI designers, developers, sales/marketing, managers, content and community managers, and more
To help you better understand the scoring system for the Opquast Mastering Web Quality Assurance training, below is an explanation and a breakdown of the different levels. The scoring for the final exam is based on a scale from 0 to 1000. Please note, the professions associated with each score are given as an indication only.
Score
Badge
Grade
Greater
than 900

Expert : Complete mastery of web quality assurance rules and associated vocabulary. Optimal level of knowledge to be a quality referent and trainer on web quality.
Profession: Trainer or Web Quality Manager, Accessibility Expert, Senior Web Developer, Senior Front-end Developer
800 and 899:

Advanced : excellent knowledge of web quality assurance rules and associated vocabulary. Real and appreciable skills to participate in projects with other professionals.
Profession: Web Quality Manager or Trainer, Web developer, Front-end Developer, Senior Project Manager, Senior UX Designer, SEO Consultant, Accessibility Expert
Between
700 and 799

Confirmed : good knowledge of web quality assurance rules and associated vocabulary. Ability to understand and interact with other web professionals.
Profession: Project Manager, Designer, Back-end Developer, UX Designer
Between
600 and 699

Intermediate : knowledge of the fundamentals of the web quality assurance rules and glossary. Sufficient capacity to understand other web professionals.
Profession: Community Manager, Digital Marketing Manager, Artistic Director, Web Editor
Between
500 and 599

Novice : basic knowledge of web quality assurance rules and possibility of making reference to them. Basic knowledge of web project processes and vocabulary.
Profession: Community Manager, Marketing Manager, Sales, Web Editor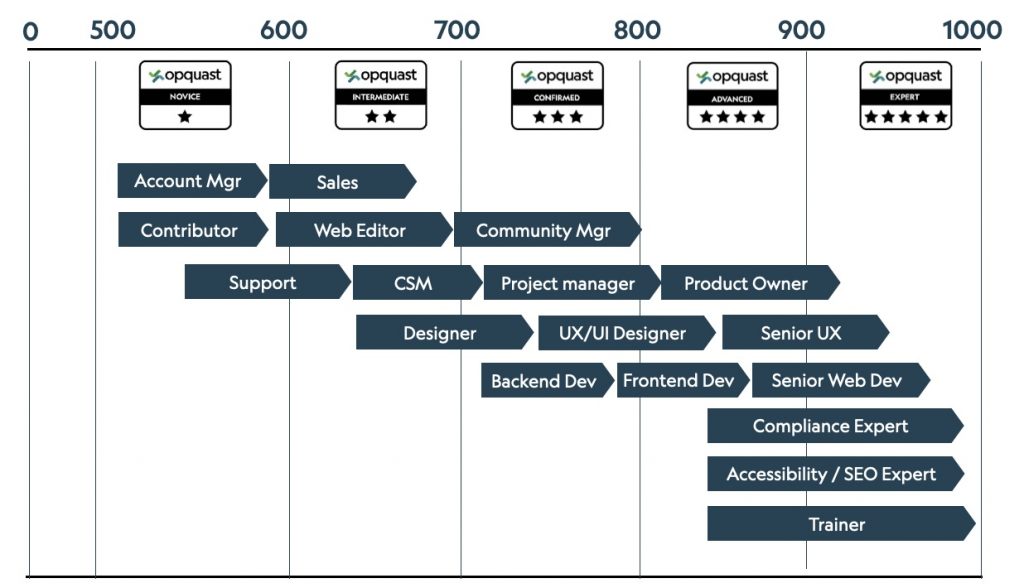 Testimonials: what they say about the training
I am extremely satisfied. It is really necessary that all the professionals who work on the web, in the diversity of professions and functions, become aware of and train in web quality. The certification allows us to have a professional asset to approach and convince all of the legitimacy of the web quality approach.
Stéphane Maguin – Project Manager
A pedagogical approach that allows students as well as digital professionals with several years of experience to tackle the subject. Above all Opquast provides everyone with a common base to encourage exchanges, discussions.
Sebastien Delorme – accessibility expert
I really feel that I learned and especially, that I acquired a better global vision of the Web sector with all the constraints and stakes that it represents.
Elsa Soussan – Webdesigner
The training is essential, with the good practices to allow a better experience for the users, addressing functionalities that we do not think about. Very useful to build a website efficiently.
Linda Chevrier – Communications assistant
The transversal aspects, which break the silos between each profession, offer a global vision of web quality throughout a project.Whatever their level and experience, every professional has something to discover.
Jérémy Renard – Web integrator
Make the web better: start the training today
After the training you will become part of a community of professionals who are custodians of web quality, who are mindful of users and gain respect for it.
The Opquast certification with its social and customer-focused missions will empower you with multidisciplinary knowledge to gain the trust of your users and leave you feeling a little more in control, inspired and purposeful.
Opquast has already certified over 14,500 professionals. Our training is registered internationally and certified with both CPD U.K. and Afnor